We Reserve the Right to Service Only Distributors & OEM Partners!
Passive Video Balun with Video, Power Connector & Data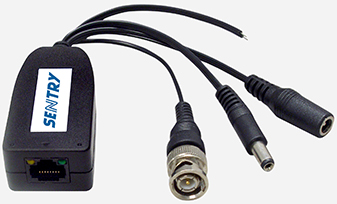 User Manual | Application Diagram
Features:

Transmit a color video signal up to 1000ft / 300m, and B/W video signal up to 1600ft / 500m.
Transmit power signal up to 600ft / 200m. (Please see Application Diagram).
Transmit data signal up to 1000ft / 300m.
BNC male with RJ45 Jack; male and female 12V DC plug on one device.
Video, camera power, data (RS422, 485) transmission over one standard CAT5 cable.
Wave Filter Design, Anti-Static Design, Confirm to IEC 61000-4-2 Standard
Interference Rejection
ABS Outer Shell
Model Number
VPJ111
Video Input / Output

BNC male cable & DC male/female to RJ45 modular jack

Surge / Lightning Protections
Video Output Protection
2kV (common mode), 10/700µs
IEC61000-4-2
Video Input Protection
2kV (different mode), 2kV (common mode)
IEC61000-4-2
Video Input Protection for Over Current

100mA

Electrostatic Discharge Protection (ESD)
Contact Discharge: 6kV / Air Discharge: 8kV
Standard: IEC61000-4-2
Wave / Interference Rejection &
Noise Filter Protection

Built-in Filter: 0~6HMz with Extra Interference Rejection <60db

Video Signal

1V p-p, 75 Ohms

Transmission Distance

Color 1000ft / 300m / B/W 2000ft / 600m

Cable
UTP / Twisted Pair CAT5 (AWG24)
DC Power Lead

12V~24V DC
*Specifications are subject to change without notice.

R&D Designed in Taiwan
Assembled IN CHINA
1pc Passive Video Balun with Video, Power & Data

1 User Manual
*Manufacturer's Three (3) Years Limited Warranty (except the power adapter which is warranted for one (1) year)